Nelson FC 2-3 Pilkington FC
North West Counties Division One North, Saturday 11th January 2020
Yet again Pilks produced a superb second half comeback to win 3-2 on a miserable afternoon in Lancashire. It wasn't ideal for pretty football as the pitch was heavy at the start and worsened after half an hour as torrential rain came down making the playing surface extremely difficult.
The first 15 mins or so was a competitive affair as both teams got to grips with the conditions. Nelson's game plan was clear from the outset as they fired the ball up field to their two towering strikers who were troublesome throughout.
There were no clear cut chances until the 17th min when Sephton shot harmlessly at the keeper before Marsh saw his powerful drive go just wide of the post. It was encouraging for Pilks.
The Nelson game plan was having some effect and on 20 mins Pilks keeper McLoughlin saved well low to his left after another high ball into the box.
Nelson had success on 25 mins when a free kick deep in their own half was flicked on and finished well past the advancing McLoughlin.
Pilks reacted well – firstly Sephton's shot on 26 mins found the side netting and 3 mins later Marsh and Sephton linked up nicely but keeper produced a fine save.
On 32 mins, Pilks Maddocks and Greene produced another move from midfield resulting in a Marsh shot just being tipped over the bar.
This was good pressure from Pilks evidenced further when on 34 mins Giglio's shot/cross was somehow pushed away by the keeper. Matty Taylor had the next Pilks chance on 36 mins but his powerful shot was blocked on its way to goal.
The rain was now falling heavily and taking its toll on the pitch and players alike.
On 37 mins Nelson should have doubled their lead when the striker looked certain to connect in front of goal but was foiled by a bobble on the pitch. Pilks had escaped. Nelson finished the half strongly and McLoughlin was forced into a save with his feet on 40 mins
Pilks management introduced Cunliffe for the second half, Gillam giving way.
It was Nelson though who had the next real chance but McLoughlin's feet again being the obstacle.
Pilks made another change on 61 mins when Laird replaced Greene.
The pitch was now proving even more difficult to play on as the water gathered in patches making a passing game virtually impossible.
Pilks would have to adapt if they were to rescue anything from this game and show the same grit and determination we have seen in recent games.
On 69 mins after some fine pressing they forced a corner. Giglio's fine delivery caused havoc in the 6 yd box and Liam Dodd was on hand to equalise from close range.
Another good chance fell to Laird on 71 mins after a quick break orchestrated by Taylor and Marsh, but he couldn't quite connect with the cross and it remained 1-1.
On 75 mins another Giglio corner was drilled into the box and despite several Nelson attempts to clear, Taylor punished them with a fine strike to put Pilks ahead 1-2.
The conditions continued to deteriorate and mistakes were inevitable as passes were falling short and any sort of planned attack or defence proved pointless. It was a matter of survival now for Pilks but on 81 mins Nelson levelled the game at 2-2.
Neither team had time to decide whether they wanted to defend what they had or go for the win as only a minute later Callum Laird forced the Nelson keeper into a save that was only parried to Taylor who fired home to restore Pilks lead.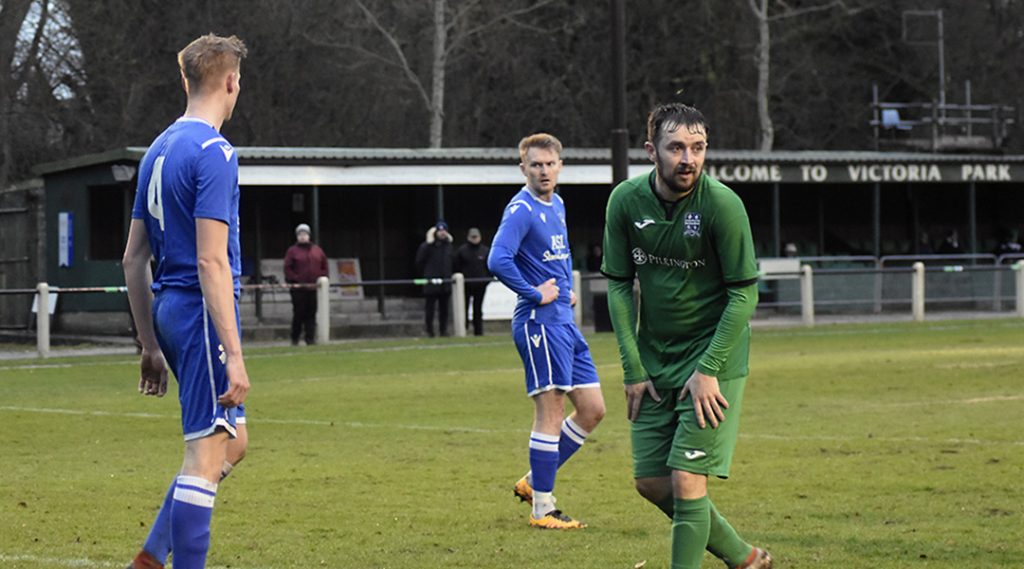 Taylor's work done, he was replaced by Taylor Prescott on 86 mins who was always going to keep the Nelson defence occupied for the remaining time.
After 4 mins of added time the referee's whistle proved a welcome sound for Pilks. In truly horrendous conditions they had prevailed against a Nelson side that had been troublesome up front and stubborn at the back. This win moves Pilks to 6th in the table with another away game next Saturday at Shelley FC. They go there in confident mood.
Pilks Team: Patrick McLoughlin, Dominic Whelan, Nathan Moore, Ben Maddocks, Miguel Gillam, Liam Dodd, Marcus Giglio, Luke Sephton (c), Phil Marsh, Matty Taylor, Daniel Greene
Subs: Callum Laird, Taylor Prescott, George Atkinson, Jack Cunliffe.