The Pilkington Lilies are named after St Helens-born legend, Lily Parr, widely regarded as one of the greatest women's football players of all time. She was the first female to be inducted into the National Football Museum's Hall of Fame in 2002 and to be commemorated with a statue in 2019.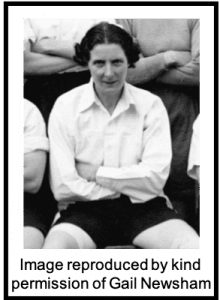 Lily Parr was born in St Helens in 1905 and went on to play for the most successful women's team of all time, the Dick, Kerr Ladies.
She started playing football as a girl with her brothers in St Helens before playing for the St Helens Ladies team. Parr was then recruited for the Dick, Kerr Ladies team, a side made up mainly of workers from the Dick, Kerr and Co factory in Preston.
The factory made tram cars and light railway equipment, but with the outbreak of the First World War turned their attention to ammunition as part of the war effort. At this time most of the men had gone off to war, and more women were working in the factories. Many workplaces formed women's football teams and the game grew in popularity during this period. The Dick, Kerr Ladies team was formed in 1917 to raise funds for wounded soldiers being treated at Preston's military hospital.
Lily Parr started her Dick, Kerr's career at the age of 15 and after initially playing at left back, switched to the left wing and scored over 100 goals for the team in 1921 alone. In a career spanning 30 years, she went on to score nearly 1,000 goals for the team, averaging easily over a goal per game.
Parr played against both male and female teams and reputedly had a harder shot than many male players. The team drew large crowds and in December 1920 a match against St Helens Ladies, which Dick, Kerr Ladies won 4-0, attracted a crowd of 53,000 at Goodison Park.
Dick, Kerr Ladies played throughout the British Isles raising large sums for charity (over £10 million in today's money) and women's football continued to grow in popularity until 1921 when the Football Association banned women from playing on their member grounds. Following the English ban, the team toured America in 1922 (they had already toured France two years earlier).
After leaving the Dick, Kerr and Co factory Parr trained as a nurse, but continued to play football for Dick, Kerr Ladies (later renamed Preston Ladies) until 1951.
Lily Parr died in 1978 at the age of 73 of breast cancer and is buried in St Helens Cemetery.
At least two of Lily Parr's relatives, her father George and uncle Jack, worked for Pilkington Brothers' glassworks in St Helens.
Further information about the Dick, Kerr Ladies football team and Lily Parr's playing career with them can be found in Gail Newsham's book, "In a League of Their Own".