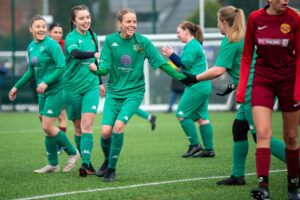 Pilkington's unbeaten run in the LWYFL League Cup continues as they beat Mossley Hill reserves 7-0 on Sunday. Head Coach, Deborah Dilworth's calls for positive energy came to fruition with five different players getting on the scoresheet. 
The home side drew first blood in the 17th minute as Molly Grey's shot slipped through the hands of the goalkeeper. A minute later, Nicole Franey found herself in the buildup towards goal once again. Her shot was parried away by the keeper, but Luna Fenlon was quick to the rebound and doubled the lead.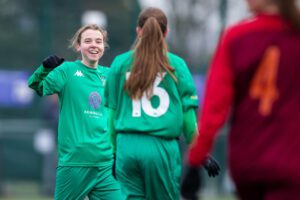 Fenlon secured her brace just 10 minutes later with the help of Hannah Fleming's calm control of the ball in a busy penalty box. She laid it off for Fenlon who fired in Pilkington's third. Right before the half time whistle, Fenlon's cross was met by Karen Quinn to make it 4-0. 
Mossley Hill were unable to test Lia Pierce in goal. The away side had a few chances to get up the pitch on counterattacks, but the green shirts were quick to subdue the Mossley forwards. 
Quinn got herself her first brace for the club in the 55th minute when the centre-back capitalized on a corner. Chaos ensued in the box as Mossley Hill failed to clear the ball. Quinn tapped it in to give The Pilks their fifth of the day.  
As the game passed its hour mark, Eleanor Owen drove into the box with speed and made her way past a Mossley defender. Owen's pass across was finished calmly by Jade Sparrow.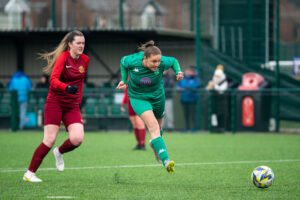 Two minutes later, Franey got herself a goal, helped on by Natalie Walsh's lob over the entire Mossley defence. Franey allowed the ball to bounce before heading it over the keeper and tapping in her team's seventh and final goal. 
Despite the onslaught of goals, Mossley's keeper kept out several shots on target and kept a strong presence in goal. The two sides will meet again in the cup in two weeks, but The Pilks will face Liverpool Feds Development first this Sunday.