Pilkington FC 3-1 Atherton LR FC
Saturday 4th January 2020, NWCL Division One North
Pilks' new year got off to the best possible start with a hard fought 3-1 win against a resilient Atherton LR team. Both teams started with energy in abundance with the opposition especially determined to make amends for their two previous defeats this season at the hands of Pilks.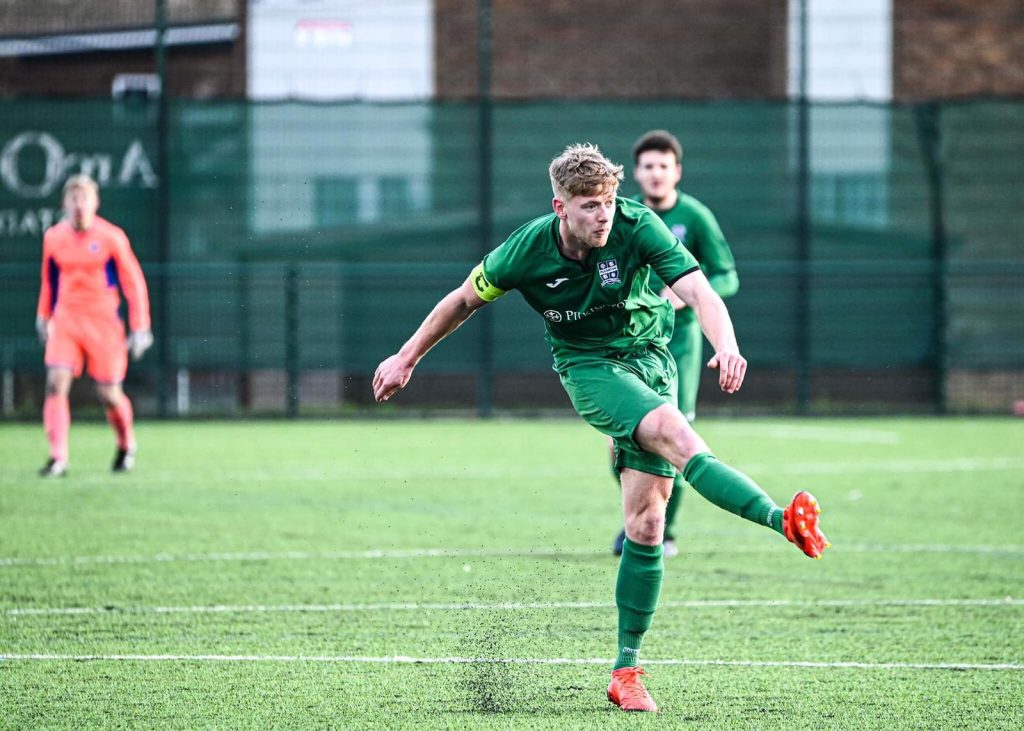 It was however Pilks who struck first on 16 mins when Phil Marsh's sublime pass found skipper Luke Sephton who fired home an unstoppable shot across the keeper from just inside the box.
Atherton's first attempt came just 2 mins later when Strong tried his luck from distance but his shot flew high over Patrick McLoughlin's crossbar.
On 22 mins Pilks full back Paul Meadows conceded a free kick 20 yds out and saw yellow from referee Mark Hughes for kicking the ball away. Minutes later, Ben Maddocks had the next chance for Pilks but fired his shot wide from 20 yds.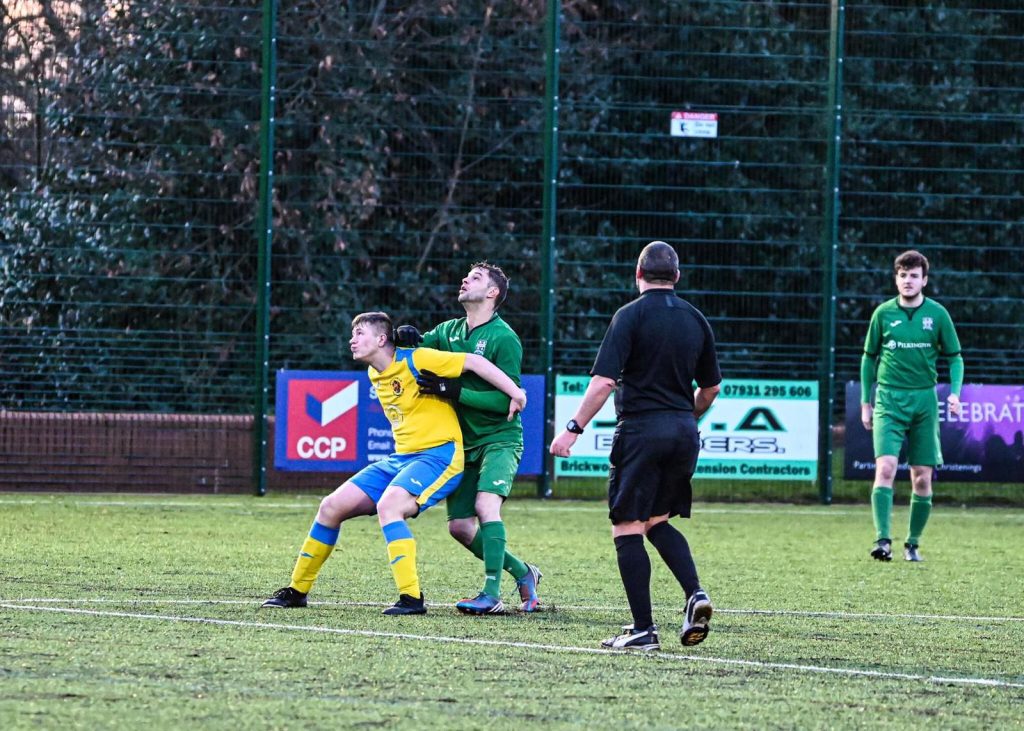 Pilks were having the better of things with Marcus Giglio and Marsh pulling the strings from midfield but on 39 mins Atherton's Hancock went on a mazy run into the box but was halted by dominant centre back Dom Whelan.
Shortly before half time Meadows again fell foul of the referee after what seemed more of a tangle than a foul, the referee taking the view it was the latter and flashed the second yellow card to the somewhat unfortunate Meadows.
HT 1-0
Pilks would now face at least another 45 mins with only 10 men but at least they had a lead to defend. They didn't appear to be adversely affected by the sending off however and actually grew in stature as the half progressed. Things worsened slightly when skipper Sephton was cautioned for a late challenge midway through the half.
On 56 mins a Miguel Gillam interception saw him feed Matty Taylor but his shot didn't trouble Garner in the Atherton goal. It was Taylor again on 58 mins who collected a long pass from Whelan but again the Atherton goal was not threatened by the attempt.
McLoughlin was called into action on 64 mins when Atherton's Jeffs played in Hutton, his shot causing no alarm however.
The attacking force of Sephton, Taylor and Marsh was proving troublesome for Atherton on the counter attack and each had half chances in the last quarter of the game.
On 78 mins Taylor Prescott replaced Taylor up front for Pilks, Taylor having showed tremendous effort and enterprise as the lone striker in the second half.
Momentum turned however on 82 mins when Adam Lawrence finally broke Pilks resistance. Barnes made a strong run and his shot was saved by the legs of keeper McLoughlin, but rebounded to Lawrence who dispatched it into the Pilks net.
Atherton smelled blood and sensed they could get more than the draw now on offer but this Pilks team has shown time and again the ability to fight to the end.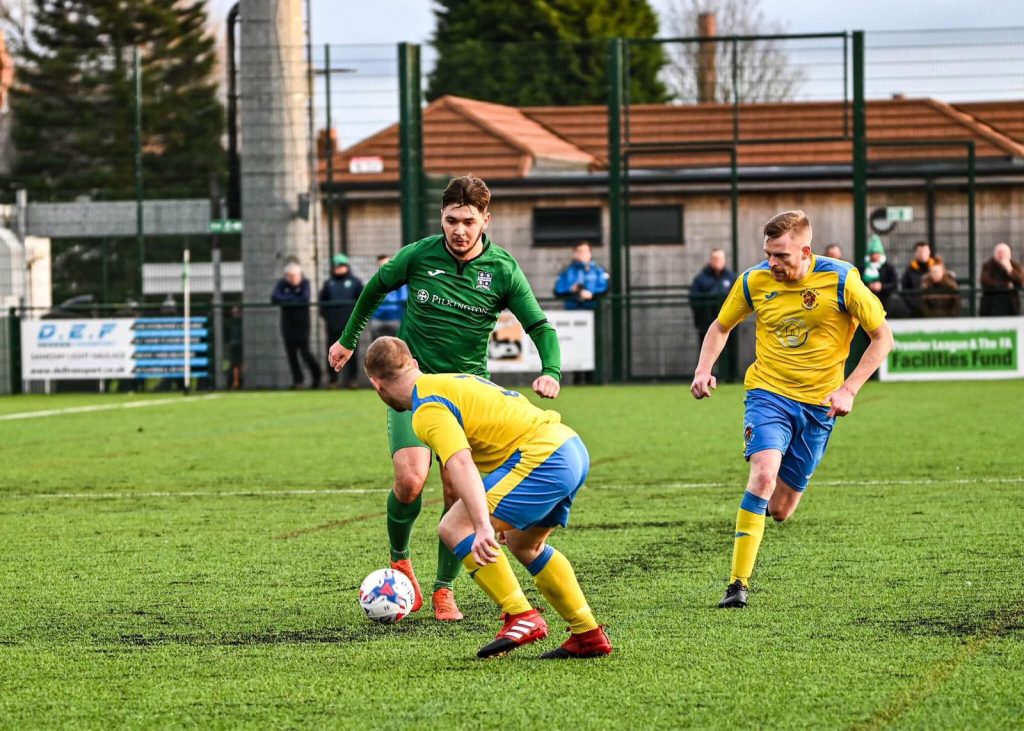 On 88mins it was Danny Greene who was on hand to tap home a Sephton flick on to snatch a very late 2-1 lead. Pilks were not finished however and in the 90th min they produced a goal worthy of any game in any league.
The ball was cleared from the Pilks box and picked up by Taylor Prescott who advanced into the Atherton half. Prescott reversed his pass into the path of the supporting Whelan who appeared set to shoot but had the awareness to square the ball to Marsh who finished the move with a sweeping shot into the Atherton goal.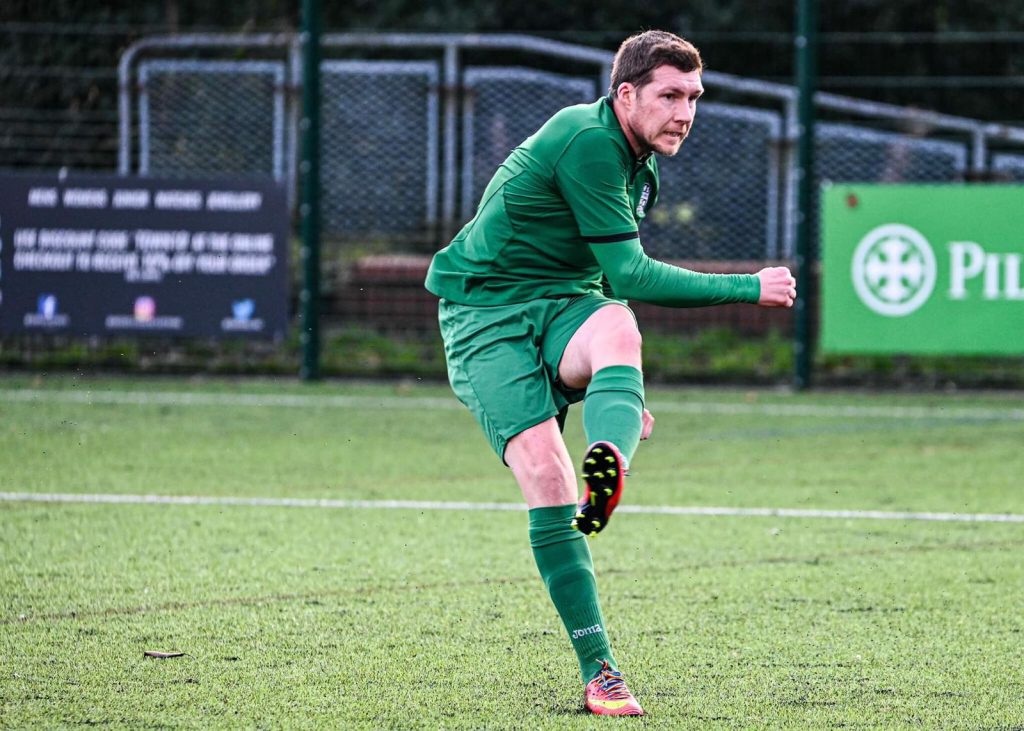 This was a strong performance from a developing Pilks side who came through a stern test of playing half a match with only 10 men and went on to win the game. Atherton LR played well and contributed to this entertaining game by persevering to the end. They were finally picked off by the counter attacking prowess of Pilks.
Attendance: 110
Team: 1. Patrick McLoughlin 2. Paul Meadows 3. Nathan Moore 4. Ben Maddocks 5. Miguel Gillam 6. Dominic Whelan 7. Marcus Giglio 8. Luke Sephton 9. Matty Taylor 10. Phil Marsh 11. Daniel Greene Subs: 12 Taylor Prescott 14 Liam Dodd 15 Karl Elias 16 Taylor Brickell 17. George Atkinson