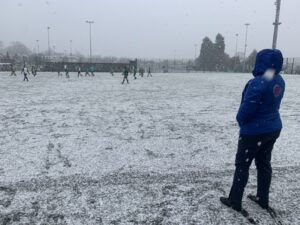 By: Hana Basir
Pilkington picked up another three points this weekend when they beat Halewood Town 3-2 on a tough, snowy day at Ruskin Sports Village. The two teams last met in late September where a penalty was enough to secure The Pilks a 1-0 win. This time, Halewood put up a good fight and came back twice, but it was a successfully placed spot kick once again that cost them the game in the end.
The start of the first half was a shaky one for the two sides as possession was often lost in midfield. Both sets of defenders were also quick to kill off any form of attacking play by the forwards.
Halewood Town had the first chance on goal but the shot from range flew over the bar. As the players began struggling to see the lines of the pitch due to the heavy snow, the first 45 minutes ended goalless.
The second half was vastly different from the first. The opener finally came in the 50th minute as Pilkington were awarded a free kick out on the right, just outside the penalty box. Debbie Hancock's delivery found Bec Birchall who was lurking near the far post. She got her right foot on the ball to make it 1-0. It was Birchall's last bit of action as she picked up a slight injury in the buildup towards the goal.
Halewood showed no signs of backing down as they equalised in the 55th minute through a clinical finish from close range. Just two minutes later, Nicole Franey put The Pilks back in the lead, scoring in her fourth consecutive match.
As the game entered the hour mark, the visitors got themselves level once again, this time through a stunning volley by the team's number seven. She caught the ball sweetly from way outside the box and it went up and over Lia Pierce.
With 15 minutes left to play, Halewood's goalkeeper crashed into a green shirt in an attempt to go for the ball. Pleas were ignored as Rachel Carney took to the penalty spot and calmly converted it down the left.
In the game's dying minutes, May Mallon came close to widening the lead as she found herself through on goal but was pressured well by her marker who had caught up. Pierce made several good saves to deny a third equaliser for Halewood, who were resilient till the very end. Pilkington will look for their third straight win next week, where the team will also commemorate 100 years since the ban on women's football.