COMMUNITY club Pilkington FC has paid tribute to St Helens-born women's football legend Lily Parr by naming their new girls' section in her honour.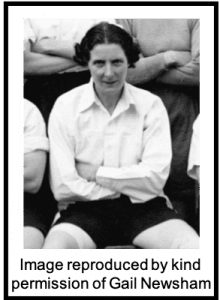 Parr is widely regarded as one of the greatest women football players of all time. She was the first female to be inducted into the National Football Museum's Hall of Fame in 2002 and to be commemorated with a statue in 2019. The Pilkington Lilies aim to follow in her footsteps by encouraging local girls aged 5 to 11 to develop their skills at the club's Ruskin Sports Village home in the town.
The news comes hot on the heels of Pilks getting the green light from The Football Association to launch two new Wildcats Centres, as part of its national network of football centres for girls. Meanwhile the club's flourishing women's first team plays in the Liverpool County FA's Women's League.
The idea has got the blessing of Lily's family who said the player, who was born in 1905 and played in an era when women's football was just beginning, would have been delighted to know young girls in her home town were being encouraged to take up the game.
Lily's cousin, June Patten added: "Thank you to Pilkington Football Club for honouring Lily in this lovely and respectful way. She was an outstanding player and was also very modest. She would have been flattered and quietly pleased about this."
Pilks is a rapidly expanding club and now has an inclusive programme for children from pre-school right through to senior football. Its men's first team plays in the semi-professional North West Counties Football League.
This latest initiative is headed by Pilks' Community Officer and experienced coach, Nick Robinson who led taster sessions for local girls towards the end of last season at Ruskin's modern facilities, which include two full-sized 3G playing pitches.
He said: "At Pilks, the emphasis is on ensuring all of our juniors learn the game in the right way and above all, have fun in a safe environment. The facilities we have here are second to none and the envy of many other clubs across the North West. We had great feedback about our taster sessions from both girls and parents and now plan to make this available to even more youngsters through our Wildcats Centres and also establish our new girls' teams in the near future."
Pilks' chairman, Jimmy Woodyer said he is excited by the new initiative and added: "We have been planning our new girls' section for some time and it is fitting that we are naming it after Lily Parr.
"We have great hopes for Pilkington Lilies, as with everything else at Pilks."
Pilkington's Wildcats Centres are for girls aged 5-11 at Ruskin Sports Village on Mondays 5-6pm and Saturdays 10.20-11.20am. To find out more or to register, please email community@pilkingtonfc.com or text/WhatsApp 07738 959903.