On Saturday 25th July we held our 4th annual golf day at Sherdley Park Golf Club.
The rain stayed away and shortly after noon over 50 golfers started to arrive to compete for both individual and team prizes. With social distancing measures in place, players helped themselves to coffee and bacon barms prior to the golf commencing.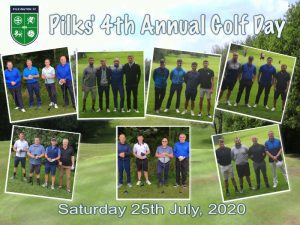 At 13.04 Club Chairman Jimmy Woodyer, following tradition, got the day up and running by driving off on the first hole. 12 other teams followed and by 14.30 all 52 players were out on the course competing and battling it out.
The format of the day was a 4-ball competition with the two best scores counting. Individual prizes included 'longest drive' and 'closest to the pin'. Club Secretary Paul Pinder and volunteer Paul Tabern drove the beer cart around the course and kept the lads well hydrated throughout the day, serving unlimited alcohol and refreshments.
Following a great afternoon of golf, the players were joined by family and friends of the Pilks' community to enjoy an evening at The Sticky Wicket including a BBQ and the presentations. Jimmy Woodyer presented the prizes with the main prize of the evening, the overall team winners, being won by staff from The Parks school, Dan Leyland, Sam Westhead, Ste Williams and Tom Pilkington with a great score of 108 points.
Individual prizes went to:
Longest Drive – Ian Holt
Longest Drive – Paul Meadows
Closest to the Pin – Dan Leyland
Closest to the Pin – Jimmy Dunbar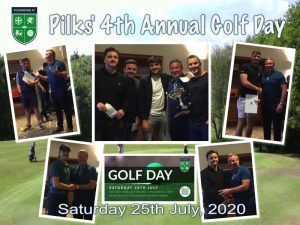 First team midfielder Ben Maddocks won the main raffle prize and can now look forward to an evening at the Totally Wicked Stadium watching a Saints match of his choice in a private box.
A great day was had by all, with valuable funds raised for the Club which will contribute to the running of our Little Touches, Lilies, Juniors, Women's and Men's senior teams.
We would like to thank all sponsors for supporting the events, including Travis Facades, CCP Building Products,  bocboc Cafe, NRG Football Coaching, Pilkington FC Juniors, Dave Webster and Joseph Parr builders & timber merchants.
Well done to all players who competed and a very special thanks to organiser Danny Hughes who, despite the added challenges of the recent lockdown, made sure that we had another hugely successful and enjoyable event.
We look forward to seeing you next year for our 5th annual golf day.