Lower Breck FC v Pilkington FC
FA Vase 2nd Qualifying Round, Saturday 14th Sept 2019

Pilks adventure in the FA Vase came to an end but only after they gave table topping Lower Breck a genuine fright at Anfield. It was another pulsating performance from Pilks before a very contentious added time goal gave the opponents a 4-3 win.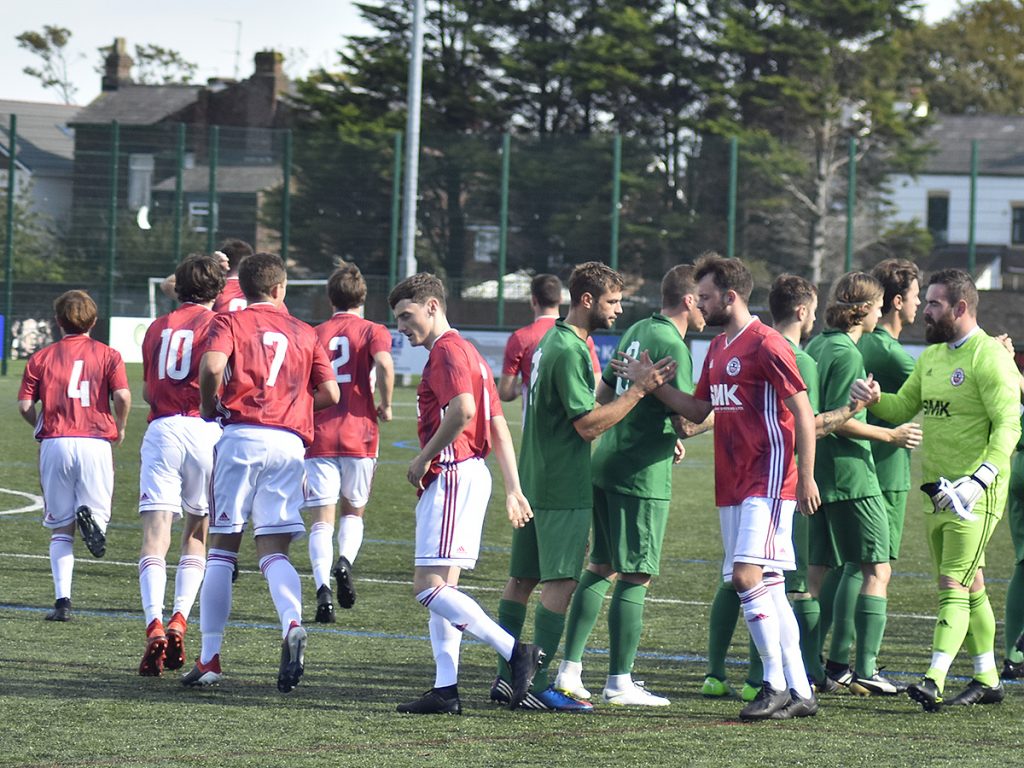 It was Pilks who scored first after 3 mins when a calamitous attempt at a clearance by the efficient centre back Paul Mooney left his keeper stranded as he steered it into his own goal.
The lead didn't last long because on 8 mins the ever-lively No 9 Stephen Milne levelled the game when he took advantage of Pilks failure to clear their lines.
It was a subdued Pilks for the first half and though Lower Breck largely dominated possession there were not too many attempts on goal to trouble Pilks keeper Patrick McLoughlin.
However on 37 mins a shot came in from Lower Breck that McLoughlin could only parry into the path of Jay Colbert who finished from close range. 2-1 it was at half time.
Familiar territory for this Pilks team but it is a team that doesn't lie down and on 53 mins a direct free kick for Marcus Giglio deceived everyone and went into the bottom corner.
The game was level but Lower Breck pressed and had a number of chances causing McLoughlin to be busier than he would have liked.
On 77 mins Miguel Gilliam and Mason Ryan contrived to sandwich a Lower Breck attacker in the box and this resulted in a penalty that was cooly converted by No 9 Stephen Milne.
Pilks sensed that all was not lost and 5 mins later Matty Taylor did what Matty Taylor does. Collecting the ball on the left hand side of the box, stepping inside and dispatching a curling shot inside the far post, a superb finish.
This was a cup game and one sensed we were in for a frantic finish with extra time beckoning. And so it proved.
In added time a Lower Breck corner was delivered to the far post and headed back towards goal and Pilks keeper McLoughlin attempted to punch the ball clear only to be seemingly impeded by the attacker. As the ball bounced there seemed to be a push on Mason Ryan before Jonathan Swatton stabbed the ball home from an offside position.
The officials consulted but saw nothing wrong and Pilks protests fell on deaf ears as Lower Breck wheeled away in celebration.
It was very cruel end to an amazingly gutsy performance from the Pilks team. Football can be a harsh game and Pilks will learn from this bitter experience.
The game did show however that Pilks can compete with the best in this division and on another day…….