AFC Blackpool 4-1 Pilkington FC
Saturday 8th February 2020, North West Counties Division One North
On a difficult pitch and with a swirling wind AFC Blackpool ended the first half with a flourish to give Pilks an impossible second half task – ultimately running out 4-1 victors.
The writing was on the wall as early as the first minute when Blackpool's Fishwick had the first chance, a header which thankfully went straight into the arms of keeper Patrick McLoughlin. Both Luke Sephton and Phil Marsh had efforts cleared off the line after 3 mins and then it was Pilks who struck first when Miguel Gillam was fouled in the box a minute later, Marsh converting the penalty kick for 1-0.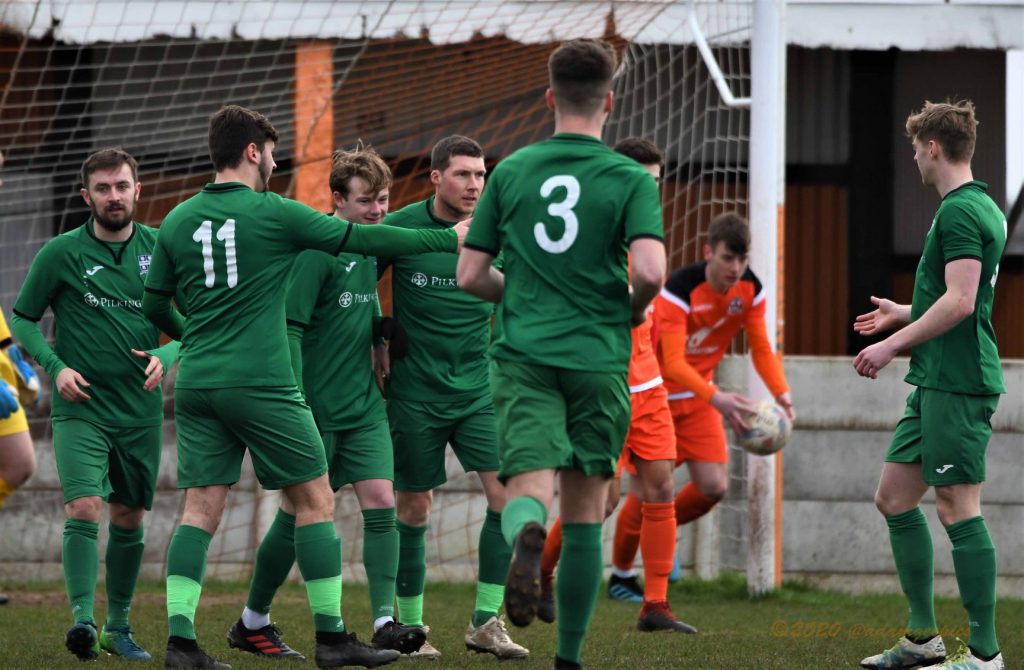 On 16 mins, Matty Taylor drew a save from the keeper after good work from full back George Atkinson but this was to be as good as it got for Pilks. Just 3 mins later an impromptu long-range effort from Blackpool's Jamie Thomas beat McLoughlin and went in off a post to level the game at 1-1
Blackpool went ahead just 3 mins later when Ben Roberts turned Nathan Moore on the edge of the box and launched a fine left foot drive past McLoughlin into the top corner for 2-1.
Pilks skipper Sephton fell foul of the uneven pitch as he was replaced by Jack Gibney on 36 mins after rolling his ankle.
At 2-1 Pilks were still well in the game but a few late lapses just before half time saw the game drift from 2-1 to 4-1 in a matter of moments. Defensive indecision in the Pilks box saw Billy McKenna take advantage to extend the home side's lead to 3-1 on 44mins. Things worsened in the third minute of injury time when Conah Bishop side footed home at the far post after good work by Roberts.
In just 4 mins the game had gone from manageable by Pilks, to virtually out of reach. Blackpool were worth their lead. Pilks had shown little composure and too much defensive indecision and went in at half time somewhat deflated at the late flourish from Blackpool.
Pilks had the wind at their backs in the second half and things did improve for them but it was Blackpool who knew their own ground best and how to manage the inclement conditions.
Gibney had the first chance moments into the second half but managed to put his effort over the bar from yards out. Marsh took a free kick on 52 mins which found Gillam who just failed to make any connection. An early breakthrough would have provided some hope for Pilks but Blackpool were giving as good as they were getting in this second half. On 60 mins it was McLoughlin who had a tip another long-range effort around the post.
Just a minute later Ben Maddocks came close when he got on the end of another Marsh cross only to see his effort rebound off the keeper's chest. Still 4-1
On 68 mins Pilks made a change: Liam Dodd replacing Gillam and then on 75 mins Elias replaced Marsh. In between those changes Pilks' Nathan Moore beat several players down the right and then played in Danny Greene who could only send his effort over the bar. It was full back Moore who was most effective down the right-hand side late on but Blackpool were resilient in defence.
Last word went to Pilks on 94 mins when Moore again drove down the right side to the goal line, pulling the ball back for Greene whose shot drew another good save from the keeper.
It wasn't Pilks day, as the hosts took control early on and gained a good half time advantage. It was an under-par performance from Pilks who never really got to grips with the pitch, the wind or the opposition. AFC Blackpool were familiar with their pitch and the swirling wind and played the conditions perfectly on the day.
Pilks can have no complaints about the result.
Team: Patrick McLoughlin, Nathan Moore, George Atkinson, Ben Maddocks, Dominic Whelan, Miguel Gillam, Jack Cunliffe, Luke Sephton (C), Phil Marsh, Matty Taylor, Daniel Greene. Subs: Karl Elias, Liam Dodd, Jack Gibney.