Pilkington 1-0 Congleton Vale Royal
Cheshire League Premier Division, Saturday 20th April 2019
Pilk's were crowned champions of the Cheshire League Premier Division for the first time in their history after a resilient 1 – 0 win over Congleton Vale in front of a 200 strong crowd at the Arcoframe Stadium.
Nothing less than a win was good enough for Pilks to top lift the title on goal difference and this turned out to be a tense nervy display where Pilks usual quality wasn't on show.
On 10 minutes captain Graham Boylan put through Matty Taylor but his shot was well saved, and minutes later another chance went begging as he blazed it over the bar.
Taylor Prescott, Adam Dixon and Captain Boylan gave Pilks more chances but a combination of snatching at them and some good saves from the opposition keeper kept the score line level.
Nerves were on show as the game progressed and simple passes were going astray. The tension was also showing in the stadium as the fans started to wonder if it was not going to be their day.
The second half started with Pilks struggling to get control of the game and they even struggled to fashion any shots on goal. It was a shame that the 200 strong crowd were not being served up any of the delightful football that the team has put on display this season – the nerves clearly got to them and they were having little joy with the long ball to the front men.
With 20 minutes to go, Pilks finally got a break as Matty Taylor played a neat ball inside to Deklan Hill who was upended in the box and Hill dispatched the resulting penalty neatly into the corner of the net.
If the first 70 minutes were tense then the last 20 were on another level – balls were flying out everywhere as the Pilks players defended with everything they had and two outstanding saves from their young keeper Sam Tickle ensured Pilks achieved history.
After being the first local side to successfully join the Mid-Cheshire League back in 1983, the club has finally lifted the League trophy and will now be promoted to the North West Counties North Division next season. The season is not over yet though as they head to Walton Hall Park for the Liverpool FA Challenge Cup final on May 14th – another trophy never won by the club before.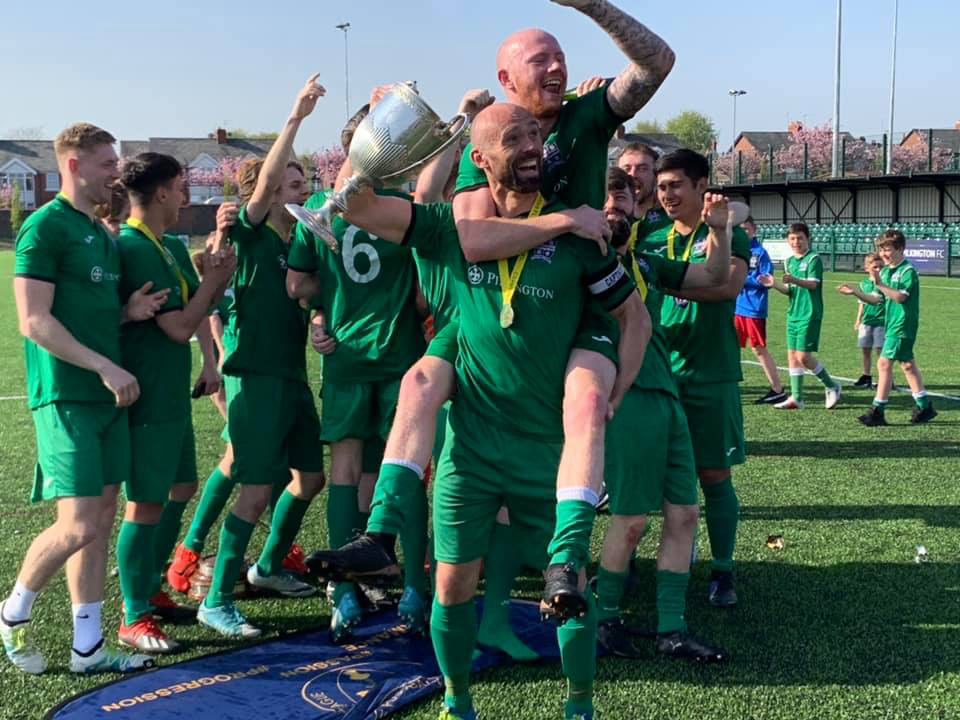 Full-time: Pilkington 1-0 Congleton Vale Royal
Manager's Comments "We're absolutely made up for the players. We were not at our best today but they dug out the result and showed us that resilience that they have had from the first minute we took over."
MOM: Graham Boylan