Marine 2-3 Pilkington FC

Tues 26th Nov 2019, Liverpool FA Senior Cup 2nd Round
In the first of 5 successive away matches Pilks continued their recent fine run with an historic victory against high flying Marine AFC – who currently lie 3rd in the Bet Victor Northern Premier League North West Divison – 2 above Pilks.
Cup games are always levellers but for the first 30 mins Marine racked up chance after chance. Skipper Strickland, Barrigan, Devine and Mbalanda all wasted good chances in front of goal and the crowd were beginning to wonder if this might be Pilks' night.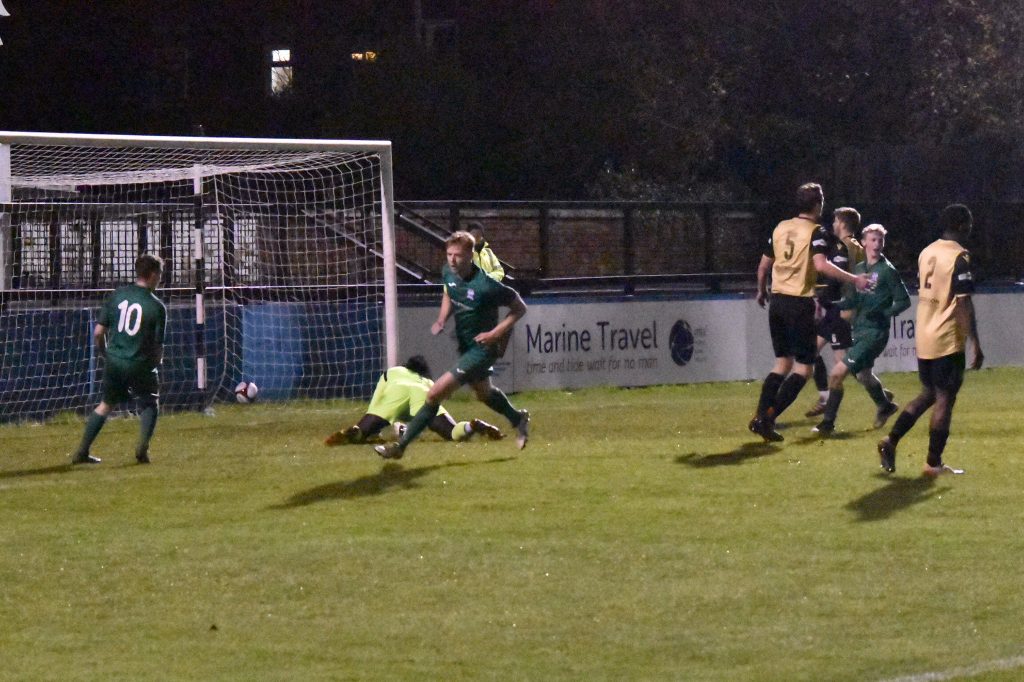 Then, on a rare foray into the Marine area and totally against the run of play, Pilks skipper Luke Sephton followed up Phil Marsh's free kick to ram the ball home on 34 mins. Pilks supporters were daring to dream but the dream ended abruptly as Steve Irwin replied for Marine only 2 mins later to level it at 1-1.
Marine kept up the pressure and both Mbalanda and Lindfield went close on the 40 min mark but Pilks keeper Bobby Jones stood firm.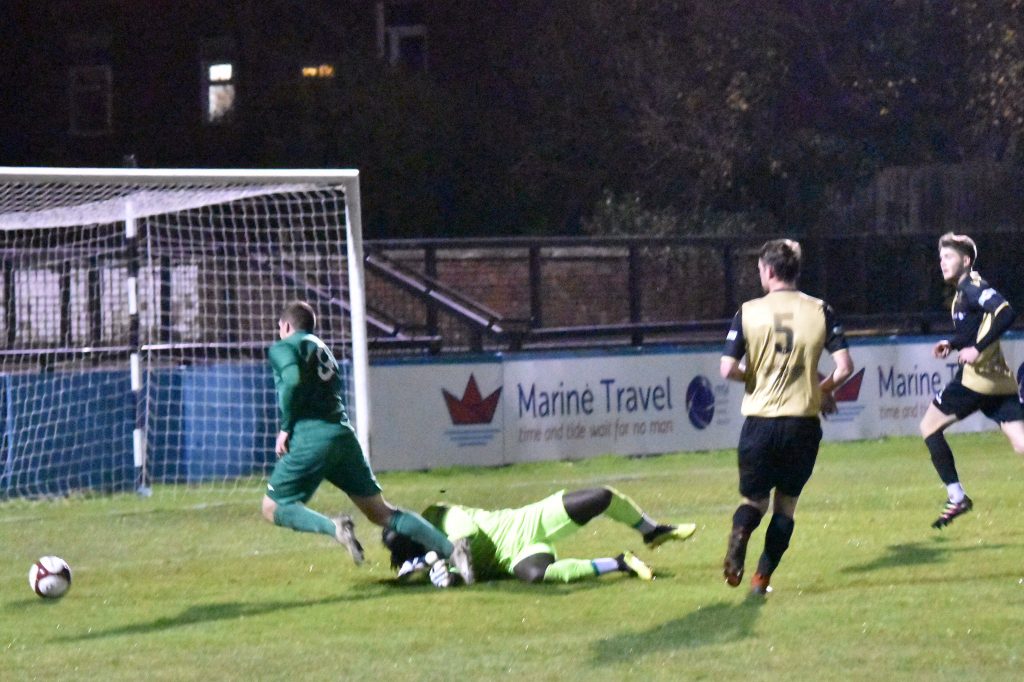 Marine keeper Germano Mendez then gave away a penalty kick just a minute later when he downed Phil Marsh in the box, Marsh converting the penalty kick with ease to give Pilks a 2-1 half time lead!
Pilks had ridden their luck a little in the first half but their second half performance had little to do with luck and more to do with grit and determination. Keeper Jones had grown into this game and proved a formidable obstacle to Marine, beginning with a fine save on 51 mins from that man Mbalanda again.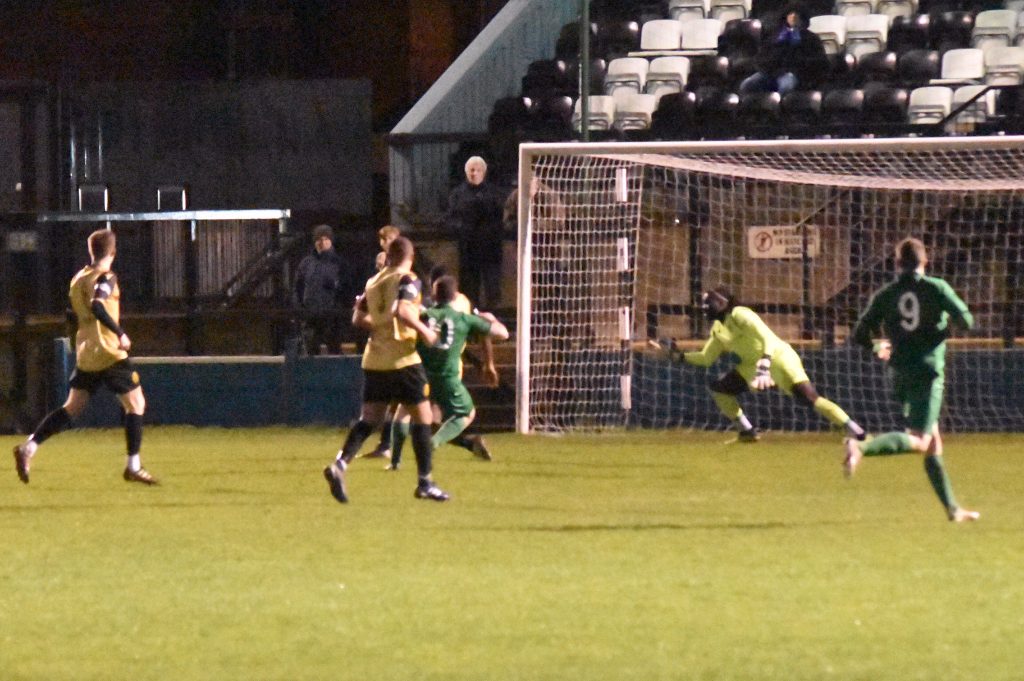 On 56 mins Callum Laird put Pilks further ahead with a fine turn and finish to make it 1-3. Laird can be a nightmare for defenders, his energy and chasing down make him very difficult to handle.
Pilks had to reorganise their defence when dominant centre back Dom Whelan tweaked a hamstring and gave way to 18 year old Jack Davies. On the hour mark a Pilks corner created havoc in the Marine 6 yd box and an almighty scramble finally saw Paul Meadows nod the ball home from very close range. Unfortunately the referee adjudged keeper Mendez to have been fouled. That appeared to be one of those decisions that keepers quite often get when they're reaching for a cross.
Marine were encouraged by that decision as a 1-4 deficit would probably have been beyond them on the night and they reduced the deficit on 64 mins when substitute Josh Woods made an immediate impact to make it 2-3.
Brannigan had one half chance for Marine on 74mins but shot wide. Sephton also had a half chance for Pilks but shot over the bar on 79 mins.
Further substitutions followed for both teams, Marine introducing Barai and Devine for Lindfield and Irwin, Pilks introducing Karl Elias in midfield to resist the inevitable final onslaught with Sephton giving way.
Striker Matty Taylor was also introduced late on and like Callum Laird, is a nightmare for defenders to monitor.
There would no extra time in this game, it would go straight to penalties and when the referee indicated an additional 5 mins it was a clear that game management was vital for Pilks.
Pilks were intent on keeping the ball high up the pitch and the experience of Phil Marsh was crucial, he and Taylor Prescott did a fine job of defending high up the pitch.
It was in added time that Matty Taylor mesmerised the Marine defence with some close control and footwork but couldn't quite get his shot away, the ball broke to Marsh who fired a super low shot that beat the keeper but rattled the post and went to safety.
Game over on 97 mins and Pilks had registered a truly amazing victory. Chairman Jim Woodyer suggested this was the finest result in the history of the club, no one could recall a greater victory.
This was cup football at its best. Marine had numerous chances to score in the first half but it was Pilks who took the few chances they had. Incredibly it was Marine who faded in the second half against a valiant and defiant Pilks outfit who were themselves without a number of first team options on the night.
Make a note of the team listed here, they are history makers on a night which will live long in the memory of those who were there. Pilks are now in the last 8 of this competition and could be drawn against Everton, Tranmere or Southport amongst others in the quarter finals. Yes, you read that right!!!
Team: Bobby Jones (K), Paul Meadows, Nathan Moore, Jack Cunliffe, Miguel Gillam, Dom Whelen, Ben Maddocks, Luke Sephton (C), Phil Marsh, Callum Laird, Taylor Prescott Subs used: Karl Elias, Jack Davies, Matty Taylor.
Photos: @paulmoran62