Pilkington FC 5-1 Daisy Hill FC
2nd November 2019, NWCL Div One North
After their midweek 5-1 win at AFC Darwen, Pilks followed it up with another 5-1 win this time at home against an enterprising Daisy Hill side.
This was a dominant performance from the Pilks team who appeared anxious to show that the midweek win was no fluke and that they could win back-to-back in the league for the first time this season.
As early as the second minute Phil Marsh's corner was met by Paul Meadows but his header went over the bar. This was followed up a few minutes later by a double effort from Ben Maddocks when his shot was parried by the keeper and his follow up effort rattled the crossbar. Pilks looked in the mood. Callum Laird had a half chance on 20 minutes then Daisy Hill countered immediately producing their first shot on goal that Pilks keeper Bobby Jones collected easily.
Pilks opened the scoring on 30 minutes when Meadows, a full back on the day, advanced down the right and delivered a superb cross that was met by the arriving Ben Maddocks.
Daisy Hill were not deterred by this goal and on 37 mins Pilks keeper Jones had to tip over the bar a shot from some distance. The game was levelled seven minutes from the half after Daisy Hill's centre forward found himself free and slid the ball under the advancing Jones.
Perhaps we were settling for 1-1 at half time but with a couple of minutes left Pilks skipper Luke Sephton hit a fine shot across the keeper to make it 2-1.
Pilks centre back Mike Samson had received treatment just before half time but was OK to return and the exciting Taylor Prescott replaced the industrious Danny Greene at half time.
There was controversy at the start of the half when the Daisy Hill centre back seemingly blocked a shot with his hands as he lay on the ground, the referee seeing nothing amiss when supporters of both sides saw the apparently obvious offence. No penalty kick and it remained 2-1.
Pilks midfield machine Jack Cunliffe received his second yellow card of the week on 50 minutes after tugging at an opponent's shirt. The press from Pilks continued and on 60 mins after an enterprising run down the left Taylor Prescot pulled back a superb cross for Callum Laird to side foot home. 3-1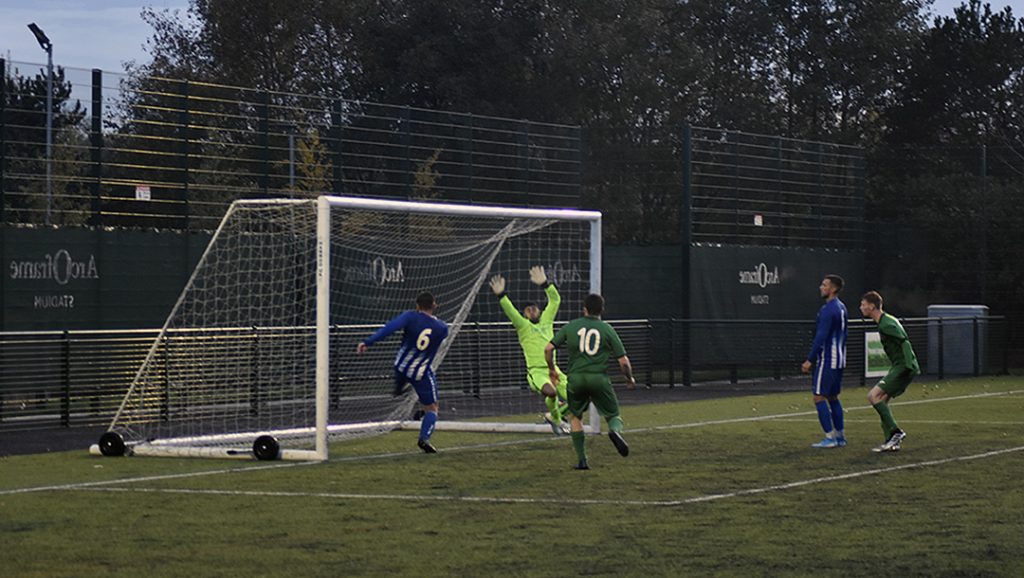 Deklan Hill entered the game on 67mins, Phil Marsh giving way. It didn't take long for Hill to influence the game though as he received a caution on 70 mins before two minutes later rattling the Daisy Hill crossbar with a thunderous shot from 25 yds.
Daisy Hill to their credit never gave up and had a chance of their own on 75 mins when keeper Jones was forced to save a good shot down low to his right. Declan Connolly replaced the ever effective Maddocks on 78 mins and Pilks were looking for still more goals.
With ten minutes left, Marcus Giglio delivered a cross that at first looked to be too deep but which was met by Hill who sent his looping header right back across the goal into the net for 4-1.
Pilks were not finished yet and their continued enthusiasm was not to the liking of the referee who cautioned both Connelly and Giglio late on for seemingly innocuous challenges.
The goal of the game came from Hill who on 87 minutes received the ball on the right hand side and deceived everyone, including the Daisy Hill keeper when he shot from 30 yds when we all expected a cross. 5-1
That was well and truly game over but not before the largely untroubled Pilks keeper Jones produced a magnificent double save on 90 mins to keep the score at 5-1.
Have to give the Daisy Hill players a lot of credit for sticking to their task right to the end but this was Pilks day and their second 5-1 win of the week.
Man to a man Pilks were magnificent. Tougher tasks lie ahead but the signs are this team is finding its feet in this league.