Pilkington 4-0 Greenalls Padgate St Oswalds
Cheshire League Premier Division, Saturday 10th November 2018
Pilks ran out 4-0 winners in a game of the highest quality at the Arcoframe Stadium. Greenalls Padgate St Oswalds were full of confidence after last week's victory over table toppers Billinge and their early exchange of play backed up the expectation that they had come to play short, sharp football.
In the opening minutes both teams had chances with Pilks going close through Luke Sephton's header and Greenalls breaking quickly and created a few half chances. This was the story of the half with some excellent football played but both teams wasteful in front of goal.
Matty Taylor's mazy run on 20 minutes ended with a shot into the side netting and Chris Luby hit the post after great work by Sephton. Deklan Hill should have opened the scoring after he got onto Luby's flick on but his lob just went over. Taylor's shot was well saved on 38 minutes and with minutes of the half left Sephton had another half chance well saved.
The breakthrough finally came just on half-time. Another Luby flick on went high in the air and as the keeper went to collect he clashed with his own defender to leave Sephton with a simple tap in.
Half-time: Pilkington 4-0 Greenalls Padgate St Oswalds
With Greenalls playing out from the back it allowed Pilks to push high and within the first five minutes of the second half Taylor and Sephton had chances from mistakes at the back.
But this was by no means all about a dominant Pilks performance, this was a tight game and it was perfectly poised. Greenalls had their chances and it needed a goal line clearance from Ben Maddocks and some last ditch defending from Callum Barry and Miguel Gillam to preserve their lead.
Finally Pilks got a bit of breathing space when some lovely football opened up the opposition. Barry won the ball back on the half way and some quick interplay released Dixon down the line and his cross was met by the advancing Hill.
This seemed to knock the wind out of the Greenalls and within 15 minutes the game was over. Another Dixon cross was met by Hill again to make it 3-0 on 60 minutes and Sephton got his brace ten minutes later.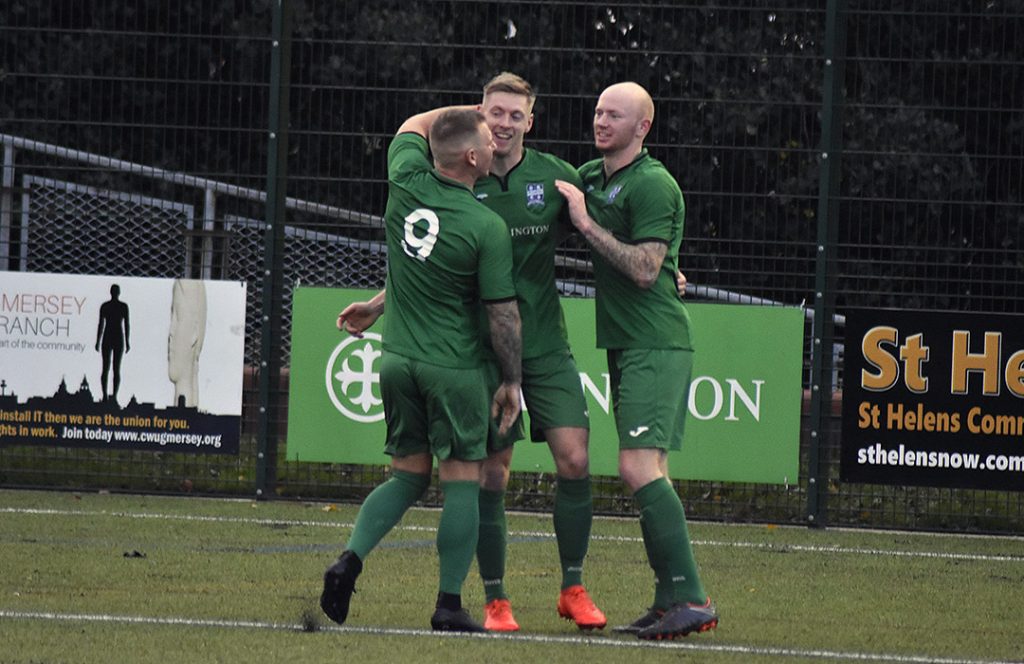 As the game came to a close a fracas on the far side led to the Greenalls full-back being dismissed. Despite the scoreline this was a very even game and Pilks had to put in a top-drawer performance to get all three points.
Full-time: Pilkington 4-0 Greenalls Padgate St Oswalds
Manager's Comments
"We're made up with this performance. Over the past few weeks we have been working on how to control possession better and that paid off today. The quality of our play, and the oppositions, was excellent today – it was a really good game to watch. Special mention to Boycey who stood in as goalkeeper today also – took one for the team and was outstanding.
Manager's MOM: Callum Barry