Atherton LR 0-2 Pilkington FC
North West Counties Division North, Saturday 12th October 2019
A severely depleted Pilks team managed to upset the odds by posting a superb 0-2 away win at Atherton LR.
This was an on/off/on again fixture played on a very heavy pitch with both sides wanting to put recent heavy defeats behind them.
Atherton won the toss and chose to play with the slope in the first half, a decent advantage given the conditions. If you play with the slope then a long ball is the preferred option on a heavy pitch and Pilks' centre backs Paul Meadows and Dominic Whelan coped well from the start.
On 9 mins the Atherton left back brought down Nathan Moore on the right touch line giving Marcus Giglio the chance to deliver a superb free kick into the box that was met by skipper Luke Sephton – who ought to have done better.
Minutes later Meadows collected an Atherton clearance, advanced passed an oncoming defender and shot from 25 yds over the bar.
At the other end Atherton tried very hard to use the slope to deliver crosses into the box and some of those crosses caused problems for the Pilks defence but none resulted in troubling keeper McLoughlin.
Moore again advanced down the right on the half hour and he delivered a cross come shot which the Atherton keeper had to palm over the bar.
Pilks' debutant at this level, Alex Higham had a shout for a penalty when he appeared to be brought down in the box but the officials looked at each other and decided upon no action.
Approaching half time Atherton had their best opportunities. Both came down the left hand side and both resulted in shots on goal that McLoughlin saved easily. Other chances in this spell resulted in shots way over the Pilks bar. That was Atherton's best spell of the half and Pilks were thankful to go in at half time level at 0-0.
Pilks managed to do in the second half what Atherton wanted to do in the first, that was to use the slope effectively but not before Atherton's Connor Comber rattled the Pilks' bar with a chance all of this own making immediately after half time.
On 49mins Pilks took the lead when a through ball to Deklan Hill resulted in a low angled shot beating the keeper into the corner.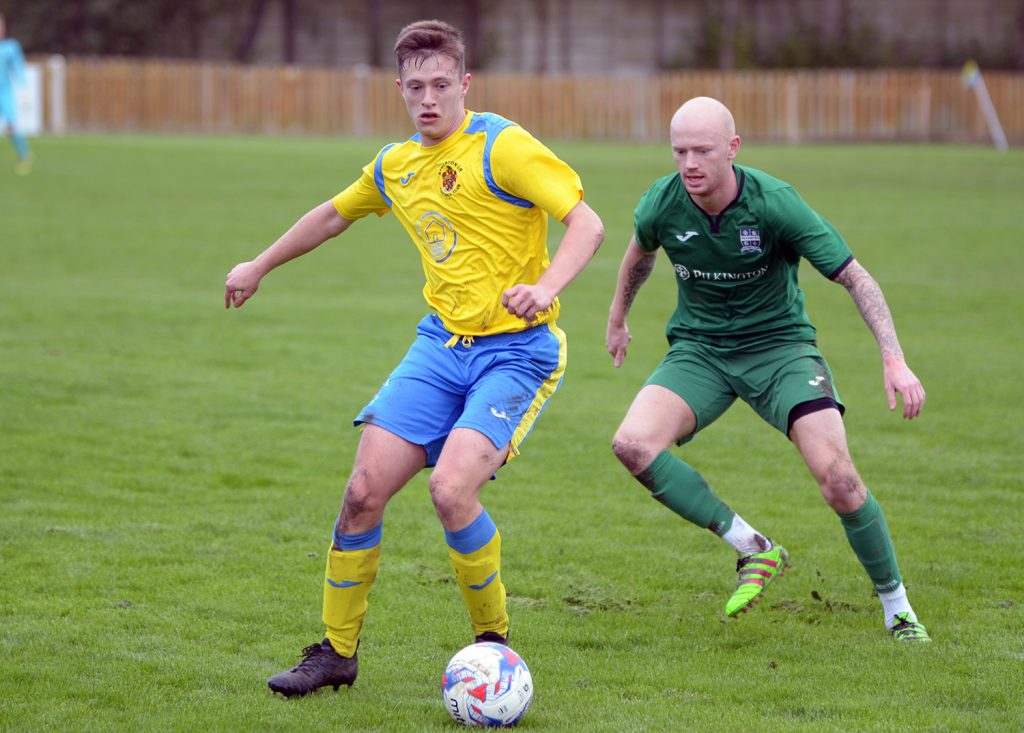 Photo: @JamesLobley7
Half chances for both sides ensued but it was Atherton who appeared to be tiring whilst Pilks were not. On 66 mins another through ball to Deklan Hill saw him poke the ball passed the advancing keeper for his second of the game.
There are no certainties in football but at 0-2 Pilks looked in no mood to surrender this lead and it was the Atherton keeper Garner who prevented a third goal on 85mins when he tipped a Sephton shot over his cross bar, a superb save.
Given the circumstances leading up to this game and given that Pilks had so many players missing, this was a tremendous effort from some of the reserves lads who had stood in on the day. Manager Ste Palfrey was rightly elated at this result and it showed again that Pilks have the stomach for a battle in this their first showing in this league.
Atherton LR Manager Dave Jones resigned his position immediately after the game citing logistical reasons for his decision.
Pilks next game is at the ArcOframe Stadium on Saturday 19th October v Steeton FC, 12 noon KO in the 1st Round of the Macron Cup.