By: Hana Basir
It was yet another nail-biting home game for Pilkington as they took on BRNESC on Sunday. As the 100-year anniversary of the ban on women's football was being marked and Women's Football Weekend was being celebrated across the FAWSL, FAWCL and FAWNL, the two teams took it to the LWYFL with five goals scored in what was an end-to-end match. Nic Franey and Louise Rowan both got a brace each but it was the BRNESC forward who put the game to bed when she made it 3-2.
BRNESC dominated the first 15 minutes, making it a busy start for The Pilks back line. With the blue shirts controlling possession, Pilkington were patient off the ball and held the away team at bay but only until the 22nd minute. Ella Thwaites opened the scoring as she curled it comfortably into the far post. The Pilks began to look livelier in their attacking half as they started to find their footing in midfield.
38 minutes in, Franey brought the ball past the keeper and struck it into the top right corner to level it for her team. The last few minutes of the first half had everyone on edge as Carla Landers's attempt at goal almost provided The Pilks with a lead but the ball strayed wide. BRNESC had their own opportunity to get ahead right before the whistle blew but Lia Pierce, with the tip of her fingers parried the shot up and over.
The three points were still up for grabs as the second half resumed. Each time BRNESC thought it was theirs for the taking, Pilkington found a way back. The visitors went ahead in the 55th minute as Rowan brilliantly lobbed the ball over the goalkeeper. It dipped just under the crossbar to make it 2-1.Five minutes past the hour mark, George Oxley slid the ball through to Franey who finished it off and for the second time, got her team back on level terms.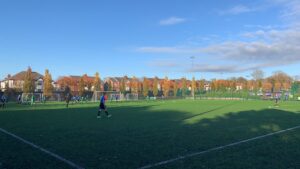 The relief was short-lived as Rowan got her second of the day in the 70th minute, restoring her team's lead once again, and for the final time. The remaining 20 minutes saw plenty of tired legs and several changes but after a hard-fought battle, a couple of fouls and good saves by both keepers, BRNESC secured the three points on the road. A second consecutive close defeat for Pilkington means they will be even hungrier for a win in their rearranged fixture against Tranmere Development next week.